9 February 2021 | Admin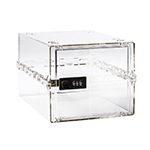 All residential facilities can benefit from lockable storage, and care homes are no exception to this rule. Our lockboxes are an ideal method of keeping your personal items close-by, while ensuring they're protected against prying eyes and hands!
21 January 2021 | Admin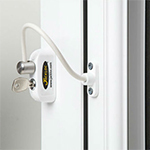 Opening a window can dramatically reduce the rates of airborne infection anywhere from private homes to hospital wards. However this can lead to safety concerns over potential accidents and intruders. These Jackloc Window Restrictors offer the perfect way to sufficiently ventilate enclosed spaces without putting anyone at risk.
22 December 2015 | John
The Carephone are an experienced company in creating and developing assistive technologies. For over 20 years they have been working to enable the elderly and vulnerable to live their lives more independently while being safe in the knowledge that help is not too far away.
21 December 2015 | Admin
You wouldn't be alone if you said you neglected your home fire alarm, taking batteries out to slip into the TV remote, or turning it off after cremating your morning toast, but no one would ever want the same thing said about those of a public space. A large building, hundreds of people and a sudden fire alarm can seem like the perfect recipe for panic, but not being able to alert everyone to a fire can have far more serious repercussions. We might all dislike the high pitch whine of our home fire alarm disturbing our dinner time, but imagine not being able to hear this crucial alarm at all. It was this scenario that led to the creation of the Silent Alert Fire Safe, an innovative fire safety mechanism for the deaf and hard of hearing.
14 December 2015 | Admin
There are so many potential alerts to be aware of. At once you could be watching the kids, running a bath, putting dinner in the oven and keeping an ear out for the phone or doorbell. But if you suffer from a certain disability or condition, or care for someone who does, the range of potential alerts you need to stay aware of complicates considerably.
3 December 2015 | Admin
Have you ever set out to do something, but midway forgotten what it was you came to do in the first... hang on, what were we saying?
Everyone forgets things. It would be fantastic if our brains were able to store and dispense relevant information exactly when you needed it. But our heads aren't filing cabinets, and whilst a lot of the stuff that slips our mind is insignificant, other things, like forgetting to take your medication, can have more serious repercussions.
1 December 2015 | Admin
It seems there's a pill for just about everything these days. Almost half the population in the UK can count taking tablets as part of their everyday routine, much the same as brushing your teeth or having lunch. For many people daily medication is essential for maintaining their well-being - from vitamins to antibiotics, contraceptives to life-saving medication, taking your correct dosage on time is vital.
23 November 2015 | Admin
When it comes to playing with fire, we at Care Alarms know how to not get burned.
Or rather, Geofire and their new range do.
Whether it is a fire door holder or a fire alarm pillow pad, Geofire have a range of products designed to stop the sparks flying and to keep us all safe in our homes.
23 November 2015 | Admin
Propping open a fire door is illegal… unless you are using the right products in order to do so. They are designed for a reason and that reason may very well be to save your life. Smoke and fire can spread quickly if there is nothing in its path and a fire door is designed specifically to stop the flames.
23 November 2015 | John
The Silent Alert range has been developed to suit as many people with hearing difficulties as possible. And because of this, they know that just because you need help with hearing one thing in your house doesn't mean that you need absolutely everything connected.
23 November 2015 | Admin
The Care Call is a discreet, wireless alerting system specially designed for carers. It gives a simple, rapid and safe solution to the remote monitoring of dependents, whether they are at home, in a neighbouring home, or in a care facility.
The Care Call range features two receivers, in the form of a pager unit and the SignWave, which can pick up signals from a number of different monitors, so you can be sure that the people in your care are truly safe whatever happens.
20 November 2015 | Admin
They say home is where the heart is, and we're inclined to agree. Is there anything better than cooking some food, turning on the TV and relaxing with loved ones in your own space? Your home is your hub, or rather your hive: a centre of activity from which we constantly buzz to and from, working together to make it home sweet home.
20 November 2015 | Admin
In today's technology orientated world, it's no longer enough to just own the latest devices. These days, it seems what many strive for is to sync such devices, building a web that links all of their technology together. Take music, for example: many like to keep their music in a library on their desktop computer, but will also want to access this from their mobile phone.
It makes sense to want to synchronise your appliances in this way, keeping everything connected so that you can access whatever you want, whenever you want it. And who's to say you can't do the same with home alerting devices for the hard of hearing?
20 November 2015 | Admin
Silent Alert have been helping the deaf and hard of hearing live independently for the over a decade and are a market leader paging systems, the last 12 months have been their most successful yet and Care Alarms.co.uk is proud to be able to add their small but life changing devices to our online store.
19 November 2015 | Admin
Caring for someone who is epileptic is no mean feat. It is hard enough during the day, but when night falls and the work hasn't ended, it can be draining, stressful and worrying. What's to stop the patient from having a fit in the night and you not hearing it?
19 November 2015 | Admin
Being a carer can be hard work; in fact, it can feel like an impossible task! Not only does a patient need to be watched during all moments of the day, the same is true of the night. Wanderings and fits do not abide by a clock, nor do they care the carer needs a good night sleep to make it through the next day.