Hazards in Your Home
1 June 2017 | John
A normal home can pose a vast variety of hazards to elderly individuals. From bed falls to overflowing baths, elderly people can be susceptible to a huge range of dangers you may not even know exist.
Caring for a loved one is a full-time job, so it's important that you can have tools at your disposal to provide more streamlined care and provide help where and when it's needed most.
Bedroom Hazards
Over 20,000 people are admitted to hospital a year after falling out of bed (The Telegraph), with women over 80 making up nearly a third of cases alone, so it's vital that something can be done to prevent these accidents. Bed leaving monitors such as the Medpage MPPL Bed Occupancy System uses pressure to detect and alert you if someone under your care attempts to leave their bed unaided, enabling you to help them and reduce falls. What's more, it'll even play a message you can record yourself, instructing them to wait for your help.
Another unfortunately common problem for the elderly is incontinence. Bedwetting alarms like the EnuSens Enuresis mat alert you if someone under your care has an accident in the night, helping you take care of the issue quickly and with dignity.
At night, it's important that elderly individuals can call for help when they need it, no matter their ability. Panic alarms like the Soft Touch Panic Alarm are easy to press, and can be activated just by rolling on them for fast and easy alerts.
Kitchen Hazard Solution
Because the kitchen is a common storage place for cleaning fluids like bleach, it's also incredibly dangerous for elderly individuals with dementia looking for something to drink. It's vital that these chemicals are kept out of the hands of the elderly, who may not realise the dangers they can pose. To help you keep track of their actions in the kitchen, door opening alarms like the Medpage Door and Window Contact Sensor alert you when a door is opened, and can even be affixed to cupboard doors to help you protect elderly individuals from cleaning fluids.
For some elderly individuals, it may not be safe or suitable for them to even enter the kitchen. Motion sensors like the PIR Transmitter detect movement and alert you instantly, letting you know if someone under your care has wandered where they shouldn't.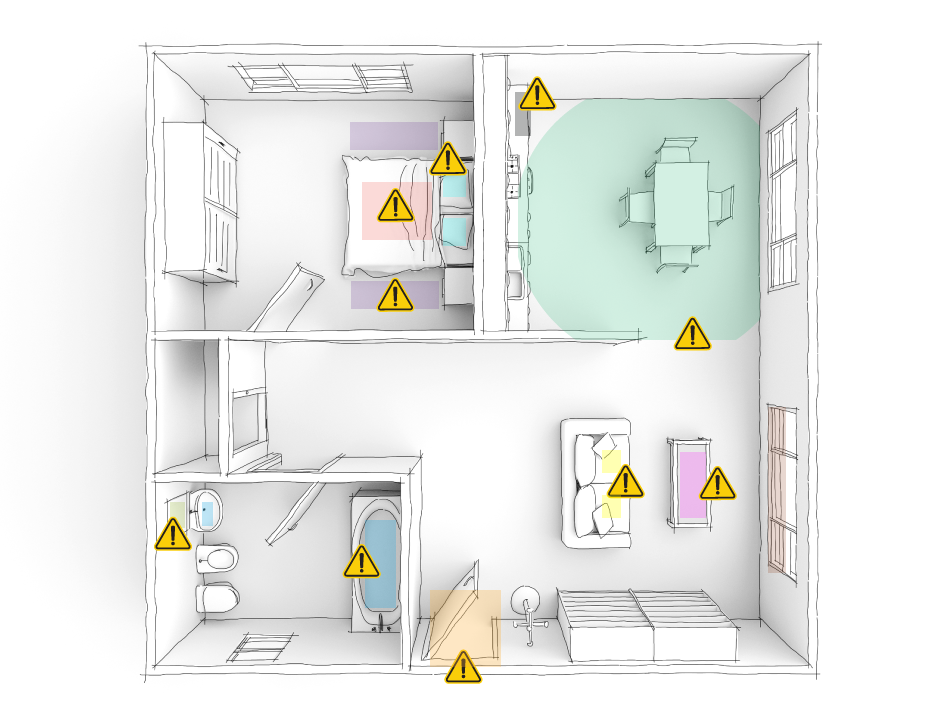 Bathroom Hazard Solutions
With many elderly individuals suffering from memory issues, be it from dementia or just old age, things like filling up the bath can easily be forgotten. Overflowing baths can cause structural damage to homes, which not only poses financial risks but also a very serious risk of injury. A water level sensor like the Bath and Sink Water Level Alarm alerts you if the bath water level goes over a certain point, enabling you to instantly turn the taps off and prevent the water from overflowing to ensure no damage is incurred.
Another potential hazard when caring for elderly individuals is medication. Keeping medicine stored safely and securely is vital to reduce the risk of overdosing. Products like the Lockabox help you keep medication and other potentially hazardous materials like shampoo safe from those under your care while making them easy for you to access.
Living Room Hazard Solutions
Like bed falls, chair falls can pose a real danger to elderly individuals. They can cause serious injuries, so it's important that you can help those under your care leave their chair in a safe and stable way. Because you can't be everywhere at all times, products like the Chair Occupancy Alarm Mat System with Voice Alert enable you to be alerted when someone tries to leave their chair thanks to its pressure pad. It also features a recordable voice alert to remind people to stay in their seat and wait for assistance.
For those with dementia, it can be hard to keep track of day-to-day activities from taking medication to knowing when their favourite TV show is starting. Alarms like the MemRabel 2 provide a reminder for a huge array of events to aid more independent living.
Outdoor Hazard Solutions
While the great outdoors can help elderly individuals maintain their independence and freedom, they can also present a vast range of dangers as well. Chief among these dangers is the risk of getting lost, leaving loved ones alone and frightened.
The best way to mitigate these dangers is to use a mobile phone with GPS location tracking built in, such as the Tracker Mobile Phone with GPS Location. This enables you to monitor their activities with an accuracy of 100m – vital if they become lost or do not return home at the expected time. The user can even send an SOS text instantly with their location to an authorised number.
If you're interested in discovering even more products designed to help you care for your loved ones, head on over to Care Alarms and take a look at our full range of assistive living and telecare products.