Jackloc: Safe Ventilation During the Pandemic
21 January 2021 | Admin
New government Covid guidelines recommend letting fresh air into enclosed spaces regularly throughout the day. However, this can result in a range of safety concerns, ranging from intruders to accidental falls. No matter whether you want protection for your home or for a care home, hospital or another facility, Jackloc has a window lock which suits your needs.
Looking For Something In Particular?
If you're looking for something in particular please see this list to jump ahead:
Best Jackloc Window Restrictors for Safe Ventilation
Jackloc Pro-5 Key-Locking Window Restrictor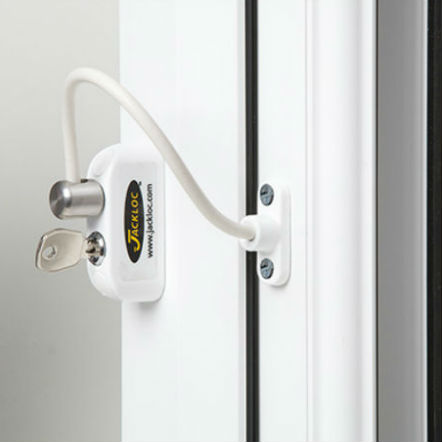 Why We Love It...
Winner of award for Best Safety Product at the 2020 Mother & Baby Awards
Locks with a key for control and peace of mind
Fits almost any type of window and material
Capable of holding 32 stone of weight
Ideal For...
All-round protection against intruders, accidents and wandering
Editor's Verdict:
The Jackloc Pro-5 Key-Locking Window Restrictor allows you to leave your window on the latch with the certainty that no one but you can open it any further. Not only will burglars be unable to gain access from the outside, but small children, residents and patients won't be able to push the window open and get outside without your knowledge.
Jackloc Titan Folding Window Restrictor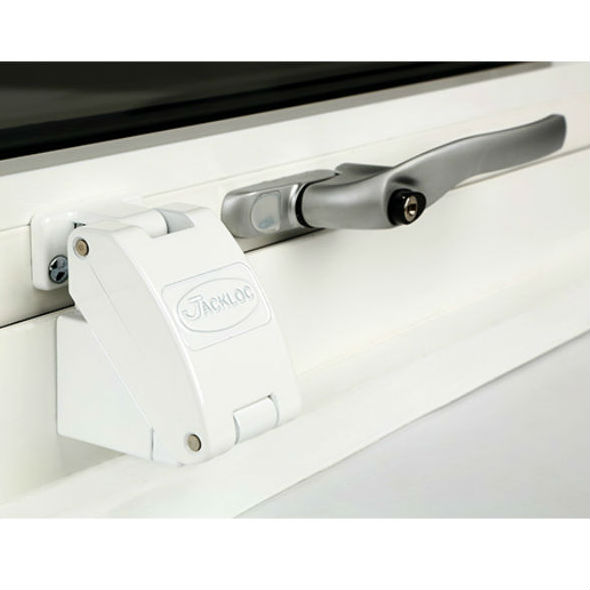 Why we Love It
Maximum security design capable of holding a force of 4800 newtons, or four adult males
Can't be disengaged without use of a key for improved security
Ten year manufacturing guarantee illustrates durability
Ideal For...
Care homes and hospital wards
Editor's Verdict: According to the Health and Safety Executive, window falls in health and social care settings can be accidental, the result of a confused mental state, or a deliberate attempt at self-harm. The Jackloc Titan Folding Window Restrictor is an ideal method of preventing falls, offering maximum security in both its construction and locking mechanism.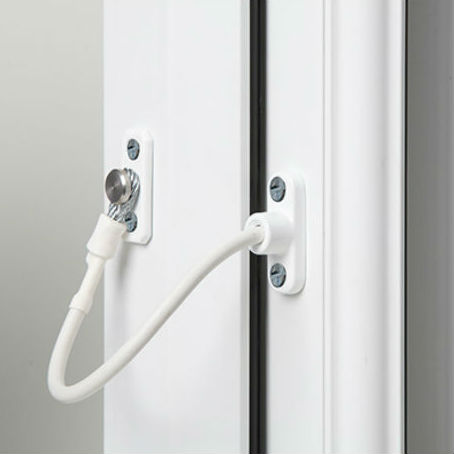 Why We Love It....
Permanent fix so you don't forget to keep secured
Fits to any type of window and material
Allows for ventilation but not so wide someone can slip through
Thick woven cables require bolt cutters to break
Ideal For...
No-hassle fitting for permanent protection on a window
Editor's Verdict: If a window is often left a little open but almost never opened fully, then the Jackloc Perma Window Restrictor makes a good choice. You won't have to remember to lock or unlock it, instead ensuring that anyone can open or close the window without enough leeway for accidents or intruders.
Jackloc Pro-Twist Window Restrictor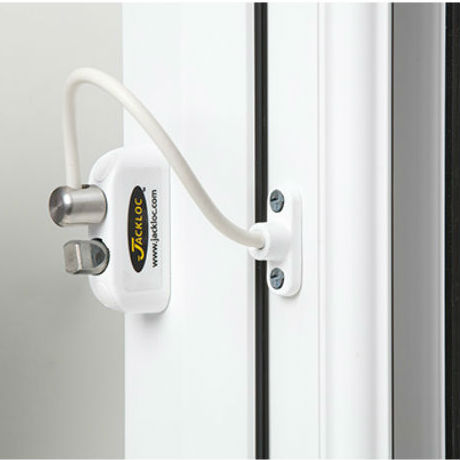 Why We Love It...
Prevents window from opening more than 100mm
Twist lock is simple for parents to access but will prevent kids from unlocking
Tested by strict quality assurance regime
Ideal for...
Kid's windows and other home uses
Editor's Verdict: The Jackloc Pro-Twist Window Restrictor offers a great balance between security and practicality, locking from the inside without requiring the use of a key. This suits it ideally to preventing children from opening the window, as it involves some physical dexterity to disengage.
What Is the Advice of the NHS?
The NHS has advised the public to keep windows open in enclosed spaces, especially during winter or visits from other households. This measure is designed to help prevent the spread of Covid. The NHS suggests two options:
Leave your window open just a crack throughout the day
Open your window wide for short, sharp bursts of 15 minutes every couple of hours
What Is Their Reasoning?
According to research, the rate of exposure to airborne infection is four times higher in hospital wards where the windows are kept closed. In wards where windows are open, there is sufficient ventilation to encourage the circulation of air, reducing the infection risk. This applies just as much to your home as it does to public facilities!
What Concerns Can This Lead To?
Accidental falls from both adults and children
Wandering, escape or self-harm attempts from hospital or residential home patients
Intruders and burglaries
Who Can Benefit From the Jackloc Locks?
Depending on whether one, two or all three of these concerns apply to your situation, Jackloc has a solution for you. Accidental falls can be prevented without any hassle with the Jackloc Pro-Twist Window Restrictor, while if you're concerned about wandering the Jackloc Pro-5 Key-Locking Window Restrictor is more suitable.
How Easy Are the Jackloc Window Restrictors to Fit?
That Jackloc Window Restrictors are easy to fit, and are suitable for almost all types of windows and materials. The fitting process varies from model to model, however the video below should give you some indication of the steps involved.
Who Are Jackloc?
Founded in 2003, Jackloc all began when Emma Wells and Deborah Allbutt implemented their father's design for a powerful yet easy-to-use window restrictor. Seventeen year later, their product is recognised as the leading window restrictor to lower the risk of falls from windows. The range has since expanded and have gone on to be used by some of the world's leading organisations.
This is a company that values safety and security above all else. They have a strict quality assurance regime which they ensure meets the guidelines of the ISO 9001 quality management system. All engineering, manufacturing and testing is carried out in the UK so consumers can have complete clarity on what their product contains.
Window Opening Alarms
If you're looking to be alerted when a particular window is opened, then why not browse our selection of Window Opening Alarms. These will not prevent the opening of a window but will ensure that it does not occur without your knowledge.
If you have any thoughts or questions about Window Restrictors please leave a question in the comments below.
Tags: Brand Focus