Finding the Right Care Call Alarm for You
26 January 2016 | John
Deciding the right care alarms solution for you can be very difficult, with different systems and different options making it tricky to work out what is best for those under your care. Care Call offers a wide range of different sensors and combinations to help you care more effectively.
To help your decision making process a bit easier, our product experts at Care Alarms.co.uk have developed an easy and simple guide for you, so you can get the support you need.
Step One: Picking Your Receiver
Click on the receiver you are interested in below to get started, or scroll down more to learn more about these receivers.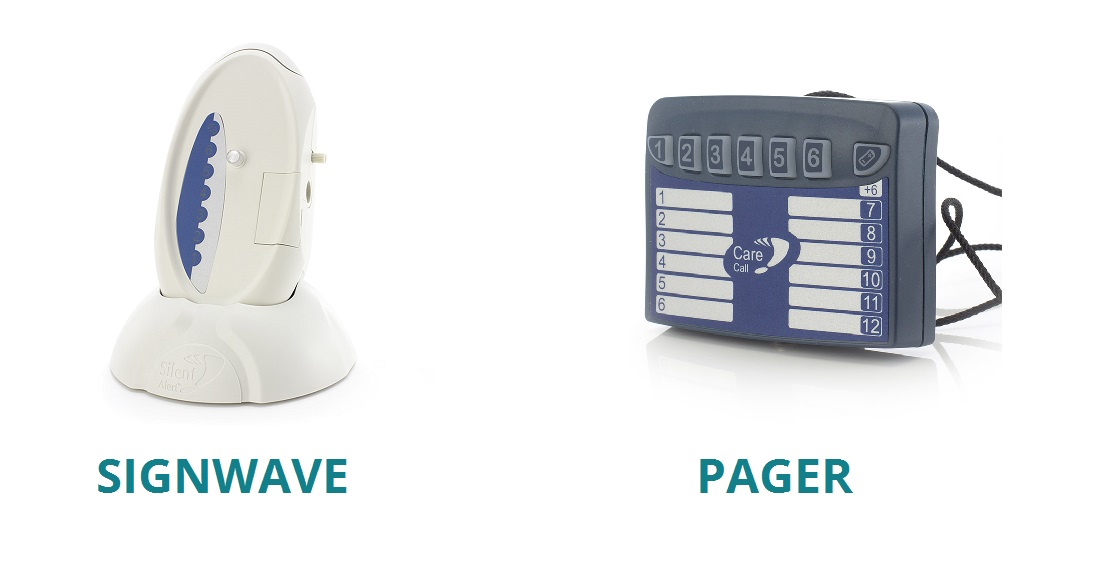 The two main receivers in the Care Call system are the Signwave and the Pager, both of which work in a similar way but are best suited to different circumstances. All the Care Call transmitters work with both the Signwave and the pager, so it's possible to mix and match the two in your system if you have the need for both
The Signwave
The Signwave can best a described as a base station for the Care Call system; a (mostly) stationary unit which receives alerts from Care Call monitors and transmitters with a maximum range of 1000m. It can be moved from room to room, and includes a charging stand which is ideally placed in a central location for many to see.
Is the Signwave Right for Me?
While it does feature a battery and can be moved from room to room, it is ideally suited to carers who stay in a single room for most of the day. It uses sound and strobing light to alert, so it's unlikely that you'll miss it if you're in the other room. However if you spend your time wandering around a large home or care home then the Signwave isn't an ideal product due to its design.
The Care Call Pager
The pager has been developed to alert you wherever you might be in the home. Like the Signwave, it has a max range of 1000m, but unlike the Signwave the pager features a belt clip, an optional neck cord and a slimmer design which enables you to easily and comfortably carry it wherever you might be.
Is the Pager Right for Me?
The pager is ideally suited to a carer who spends their time around a large home and doesn't stay in a single place for a long period of time. It's small design and belt hook means that you can be notified wherever you are. It uses sound and/or vibration to alert you to an issue. However, because of its diminutive size it would not suit a carer who requires a hub for alerts.